Episodes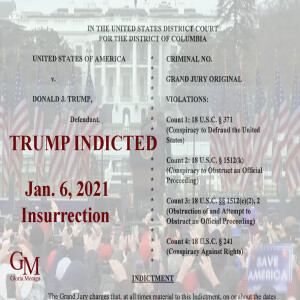 Wednesday Aug 02, 2023
Wednesday Aug 02, 2023
Former President Donald Trump has made History again. For the third time, he has been CHARGED with multiple Felonies. The case is "The United States Of America v. Donald J. Trump." 
The third indictment of Trump accuses him of illegally conspiring to overturn the 2020 election - a web of false claims of election fraud that spawned his supporters' Jan. 6 attack on the Capitol.
Trump faces four new federal criminal charges, which were unveiled Tuesday in a 45-page indictment. 
COUNT 1 - 18 USC §371 Conspiracy to Defraud the United States.

COUNT 2 - 18 USC §1512(k) Conspiracy to Obstruct an Official Proceeding.

COUNT 3 - 18 USC §§1512(c)(2),2 Obstruction of and Attempt to Obstruct an Official Proceeding.

COUNT 4 - 18 USC §241 Conspiracy Against Rights.
You can read the Indictment at this link.
I will post additional information on my website, gloriamoraga.com.