Episodes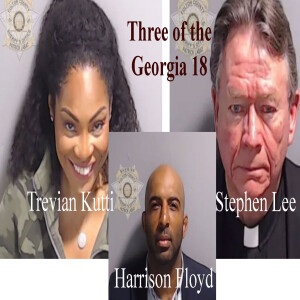 Tuesday Aug 29, 2023
Tuesday Aug 29, 2023
THE RUBY FREEMAN - SHAY MOSS STORY and THREE OF THE GEORGIA 18.
Of all of the Georgia 18 and all the charges, the three that hit me in the gut were the defendants charged with harassing election workers, Ruby Freeman and her daughter Shay Moss.
After all my years of working with election officials and covering election day stories, the Election Worker holds a special place in the democratic process and my heart.
It's a thankless job, but thank goodness they do it.
The horror stories Freeman and Moss told to the January 6 Committee were heartbreaking.
The two Georgia Women were wrongly accused by Donald Trump and Rudy Giuliani of stuffing ballot boxes and passing around illegal USB Drives. 
Then the death threats followed. Giuliani has already admitted, under oath, that he has NO Evidence that they did anything wrong.
Harrison Floyd, Trevian Kutti, and Stephen Lee are three people who attempted to confront the two election workers physically.
The trio are accused of Racketeering, Conspiracy to Commit Solicitation of False Statements and Writings, and Influencing Witnesses. Lee is also accused of Criminal Attempt to Commit Influencing Witnesses and Criminal Attempt to Commit Influencing Witnesses.
Of course, they are innocent until proven guilty.
Please Subscribe.