Episodes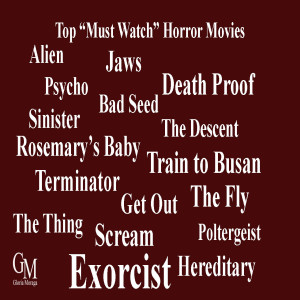 Thursday Oct 21, 2021
Thursday Oct 21, 2021
What scares you? Are you afraid of the dark? Are you sure that a monster is lurking in the shadows, waiting to devour you? What about Swimming in the ocean? Some creatures live in the sea, predators with razor-sharp teeth. What about Showers, in sleazy Motels? 
In this edition of One-On-One, one of my movie-buddies, Joseph Garcia, joins me as we discuss our favorite horror movies—Tis' the season, my friends. Don't just watch the same old scary movies this Halloween Season; search for the ones we love. You won't be bored. But be prepared to be scared!!!
I use audio clips from the following films, "Jaws," "Sinister," "Rosemary's Baby," "The Exorcist," "Psycho," "Halloween." I use less than ten seconds of each theme song. I consider this podcast educational; in that, we are sharing our knowledge of horror films. I believe this does not violate copyright law. 
Here is the combined list of our favorite horror flicks. 
Alien
Psycho
Sinister
Rosemary's Baby
The Exorcist
Terminator
Get Out
The Thing (From Another Planet)
Jaws
Death Proof
Bad Seed
The Descent
Train to Busan
The Fly
Scream
Poltergeist
And more!!!